The Japanese Mapcamera store published their 2019 bestsellers. I know this is just one of a multitude of stores available on the world. So this isn't a scientific test. But I was expecting the new Nikon and Canon FF mirrorless to outsell Sony and as you can see at least according to this store this isn't happening.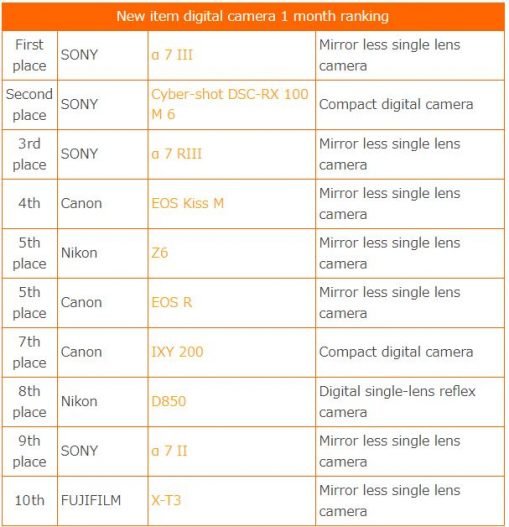 Such a new item ranking in January of 31st, such as SONY ? 7 III! The big difference was less than the second place, and it was exactly a tug-of-a-kind runaway that sold more than twice as much.
Cyber-shot DSC-RX 100 M 6 in 2nd place, ? 7 RII II in 3rd place, SONY's momentum is still alive this year as well. Other manufacturers have a feeling of being late from the start.
Canon EOS R, which has kept its top rank since its release, is a result of witnessing the backbone of the younger brother APS – C machine EOS Kiss M, which is the same number as the rival Nikon Z6.
It is interesting that these two units penetrate more fans and become a threat to the stronghold of SONY, but for that purpose it is urgent to enrich the system … this year we want new lenses to appear more and more.
In this ranking, the compact machine OLYMPUS Tough TG – 5, which had become a regular alliance, is out of rank this time. What is the alternative, Canon IXY 200 was in 7th place. This is a handy compact machine with a selling price of 10,000 yen. Feel like feeling a little familiar with the New Year's family photos …? It is a slim one that fits neatly into a handbag.