One of the toughest purchases for video professionals is undoubtedly audio equipment, whether they are recorders, plugins, cables, microphones, or lavalier. It is practically a new world that we cannot disconnect from because audio is as important or (sometimes) more important than video. It is pretty common to remember  the sound effects or even just the song of some movies.
When we look for new equipment, what we usually do is choose based on a simple rule that fits almost everything, the rule is "You have what you pay for" and then we look at the prices and we get rid of the maximum money we want to spend.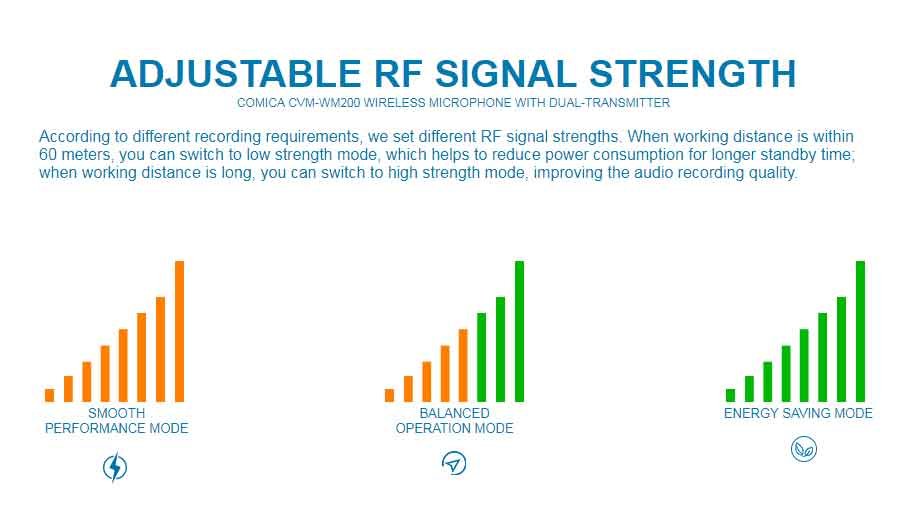 But this rule does not always apply, especially in electronics today, there are a variety of new brands that have equal or even higher quality than traditional brands and are better priced because they want to get in the market.
Then we face a new problem, are all the new brands good? The answer is no, and because of the large number of reviews and products that I've been testing. A new rule comes to me that is if it's much cheaper than other new brands so it's because the quality is low and I have proven it after several wrong purchases.
For this reason I would like to share the Comica WM200 lavalier review, a product that pleased me a lot.
The Comica WM200 is not the cheapest on the market but it is the cheapest one nowadays that presents a very good quality.
I really liked the metal body, the noise filter, the volume adjustment of each transmitter separately on the receiver, the number of channels and the ease of operation. What I liked least were the microphones, which also happens with other new brands and that can be easily replaced, but nothing that can make me stopping using them and yes I use them.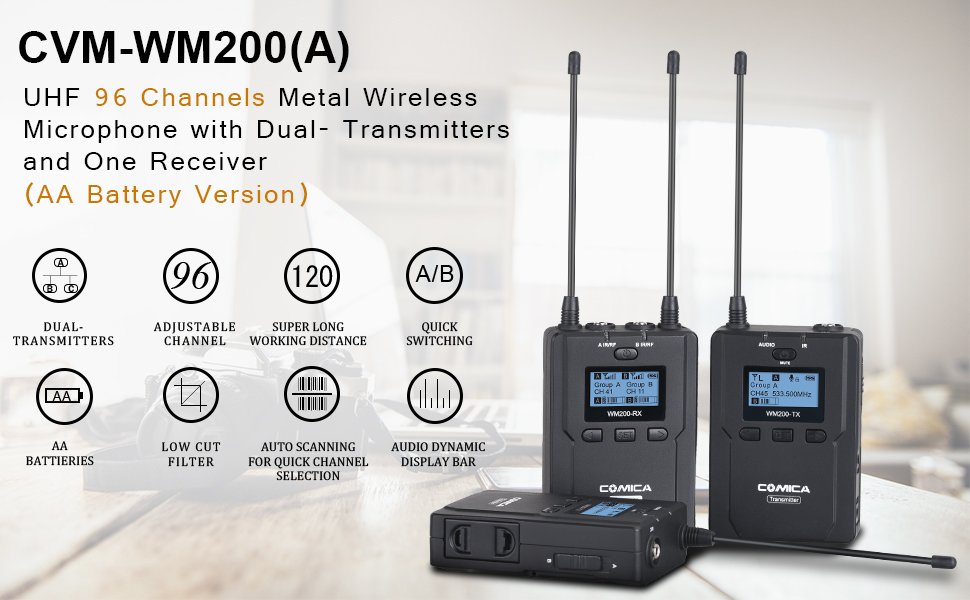 Key Features

Discrete two-channel camera-mount UHF receiver
Two bodypack transmitters with omnidirectional lavalier microphones and wind muffs
96 selectable channels can be quickly changed to avoid signal interference
A/B wireless frequency group switch on each transmitter provides fast channel selection
Group A: 520.0 to 548.5 MHz
Group B: 550.0 to 578.5 MHz
Working range up to 393.7′ in open areas and 262.5′ in obstructed areas
Switchable mono or stereo output modes allow you to transmit a stereo signal or two independent mono signals
Headphone output on receiver for real-time audio monitoring
Receiver with two antennas, one for each A/B frequency group
LCF low-cut filter mode helps reduce unwanted low rumble and wind noise for a clear sound
Auto-scanning helps you quickly find interference-free channels at your location
Manual or Auto IR mode enables you to easily sync transmitters with receiver
High and low adjustable RF signal strength—low-consumption mode for extended standby time
Built-in audio processing chip for sound optimization
Audio dynamic display bar
16-level volume adjustment
Transmitter power monitor
Powered via AA batteries
High-resolution lattice LCD display
Metal body construction provides efficient shielding against EMI
3.5mm and XLR output cables for connecting receiver to camera or recorder audio input
Includes three adapters to mount transmitters and receiver on a camera via cold shoe
Includes three belt clips
Carrying case
SPECS
Transmitter
Channels
96
Wireless Frequency
Group A: 520.0 to 548.5 MHz
Group B: 550.0 to 578.5 MHz
Range
393.7′ / 120.0 m unobstructed
262.5′ / 80.0 m with obstruction
Signal / Noise
>65 dB
Antenna
1/4 wavelength wire antenna
Transmitting Power
Low: 10 dBm
High: 15 dBm
Stray Radiation
<-60 dBc
Audio Delay
<20 ms
Audio Distortion
<0.5%
Inputs
1/8″ / 3.5 mm mic or line input
Power
2 x AA batteries
Working Temperature
32 to 122°F / 0 to 50°C
Storage Temperature
-4 to 140°F / -20 to 60°C
Dimensions
3.3 x 2.5 x 0.9″ / 84.0 x 63.5 x 23.0 mm
Receiver
Channels
96
Wireless Frequency
Group A: 520.0 to 548.5 MHz
Group B: 550.0 to 578.5 MHz
Signal / Noise
>65 dB
Antenna
1/4 wavelength wire antenna
Receiving Sensitivity
-95 dBm
Audio Delay
<20 ms
Audio Distortion
<0.5%
Outputs
1/8″ / 3.5 mm audio output
1/8″ / 3.5 mm monitor output
Power
2 x AA batteries
Working Temperature
32 to 122°F / 0 to 50°C
Storage Temperature
-4 to 140°F / -20 to 60°C
Dimensions
3.3 x 2.5 x 0.9″ / 84.0 x 63.5 x 23.0 mm
Packaging Info
Package Weight
4.95 lb
Box Dimensions (LxWxH)
14.6 x 10.3 x 3.4″