The Dutch LED light company  Rayzr , which its factory is in China, has innovated and produced LEDs with equivalent quality or superior to the most popular brands like Gemini's ARRI Skypanel or Litepanels (see table below).
Rayzr entered the market with an excellent fresnel LED, the  RAYZR 7 that besides the quality has a great price and this week presented the Rayzr MC panels LED line.
The 3 MC panels are MC 100, MC 120 and MC 200. They all offer the same functions, Kelvin color temperature is adjustable from 2400 to 9900K, red-green-blue colors, effects and a library of 300 Digital Gel. The only difference is their size and power consumption.
In the wide range of effects we find the effects: Party, club, sailing, police car, fire, fireworks, strobe light, lightning and television.
For those who record in slow motion like 200fps, 240fps, 480fps or even more, do not worry, because the MC Series is rated for high speed shooting at any frame rate and unopened shutter angle. The basic frequency of the MC series can be adjusted to provide high-speed performance without failure in any configuration.
One of the great features of the MC line is to have RGBWW, which unlike other competitors like the ARRI SkyPanel that use RGBW technology, which means Red, Green, Blue and Hot White 4 chips, the Rayzr MC has 5 chips. This extra chip means that Rayzr MC lights have not only a warm white chip, but also a white chip.
 See the comparison table between Rayzr MC, ARRI SkyPanel and Litepanels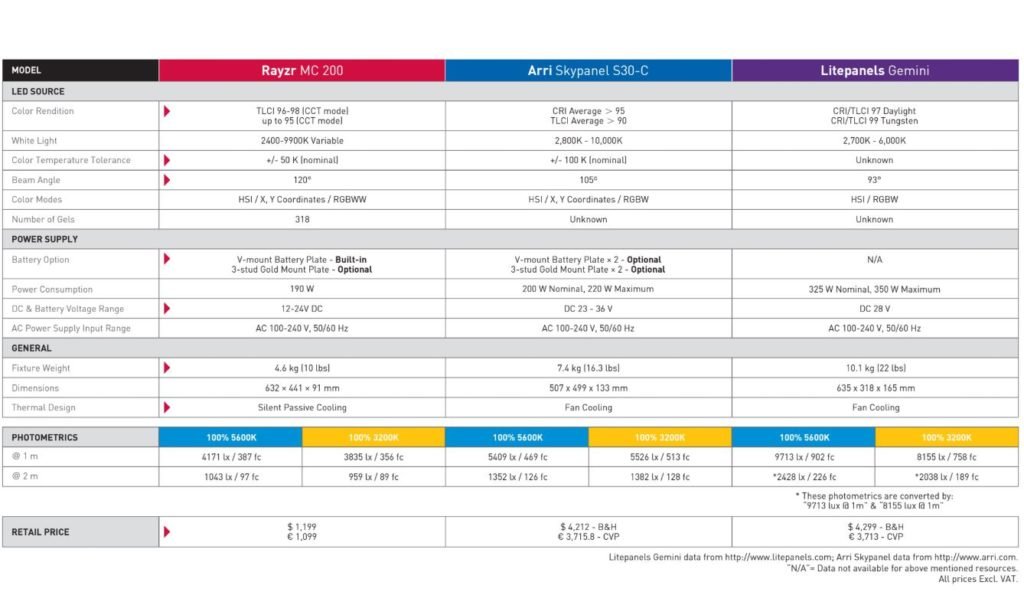 Even today it is very difficult to find RGBWW or even RGBW lights because the technology, although much better in color mixing, is much more expensive than normal RGB
We will soon be reviewing these panels on NABSHOW 2019 Las Vegas, live streaming on our Facebook page, April 8-11