The Aputure MC is Aputure's first RGBWW film light. This light features full HSI
color control and a CCT range of 3200K-6500K, giving you a full range of color
options. On top of that, the built-in magnets and footprint roughly the size of a
credit card allow this mini RGB light to fit anywhere you could ever need. The
MC also features USB-C PD and Qi wireless charging, so it's always ready to go.
It is also compatible with Aputure's own Sidus Mesh technology, so you can use
the Sidus Link app to unlock all of the light's capabilities. The latest in the line
of M-Series lights, the MC is Aputure's smartest light to date, offering you
immense flexibility.
Any Color
The Aputure MC is Aputure's first light to include full Hue, Saturation, & Intensity
(HSI) color control. With 360° of hue and 100 levels of saturation adjustment, you have the power to conveniently reproduce any color, all in the palm of your hand.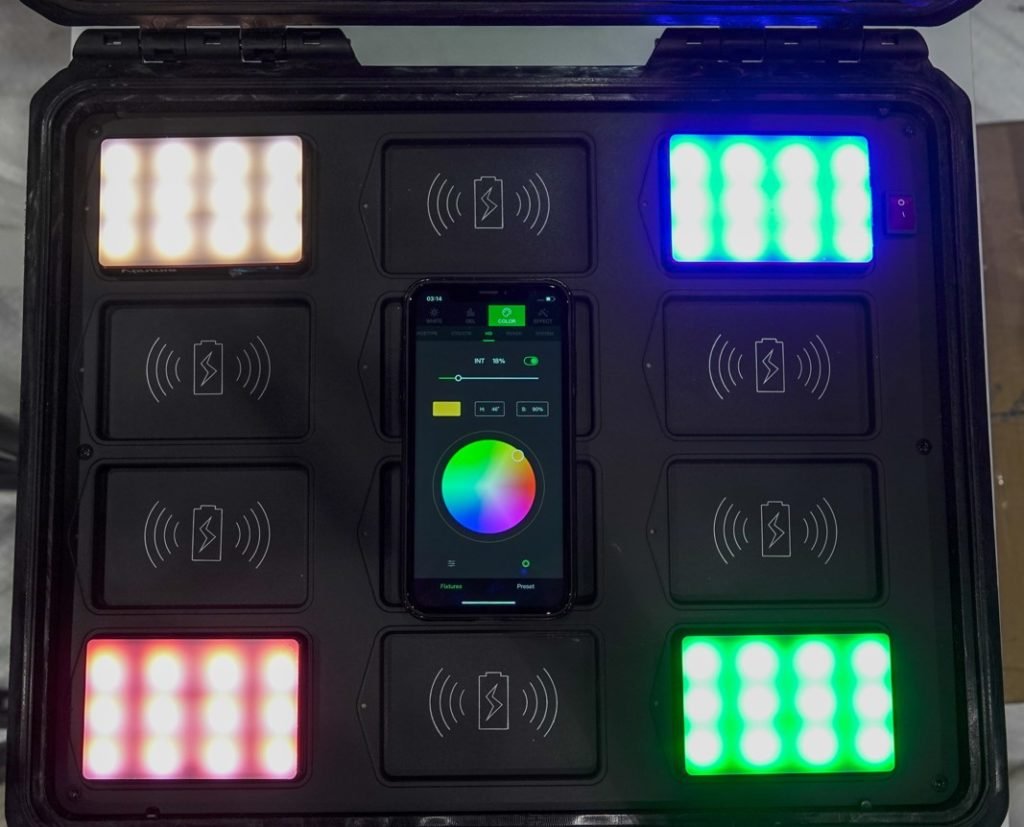 Stellar Color Quality
As with all Aputure lights, the Aputure MC prides itself in its color rendition, with CRI
and TLCI scores of 96+, and SSI scores of 84 in tungsten and 74 in daylight.
This is all accomplished by an underlying technology that reproduces color better
and more accurately than ever before: RGBWW.
Unlike traditional RGB, the Aputure MC isn't just a light that relies on Red,
Green, and Blue LEDs. By adding two additional white LEDs — one balanced at
tungsten and a second at daylight — the Aputure MC is an impossibly small
light that competes with industry giants.
APUTURE MC KEY FEATURES
95% BT.2020 Color Gamut Coverage
Full HSI Color Control: Hue / Saturation / Intensity
400 Lux @0.5 Meters
0-100% Brightness Control / 3200K-6500K CCT Control
9 Built-ln Lighting FX
OLED Display With Control Wheel
Sidus Link TM Mobile APP Control Up To 400m Away*
Up to 120 Minutes @ Max Brightness (2,600mAh Battery)
Charging: USB-C PD Quick Charge + Wireless Charging
4-Light & 12 Light Wireless Charging Case Kits
Built-in Magnets
Wireless Charging Case Powered By AC or D-Tap (Sold Separately)
Effects Modes
Paparazzi
Fireworks
Faulty Bulb
TV
Lighting
Party
Pulsing
Cop Car
Fire
The effects mode can be accessed with the Sidus Link app as well as on the MC's onboard controls.
What's Included
(1) MC LED light
(1) Carrying Pouch
(1) Silicon Rubber Diffuser
(2) Magic Tape for mounting
(1) USB-C Charging Cable