Canon has finally announced the new Canon EOS R full frame mirrorless camera with its new RF-mount system.
The company also unveil the RF 24-105mm f/4L USM, RF 28-70mm f/2L USM, RF 35mm f/1.8 M IS, RF 50mm f/1.2L USM lenses. All four lenses have customizable control rings. The four Canon RF lenses covers common focal lengths from 24mm to 105mm.
There will be three RF to EF-mount adapters, providing full compatibility with EF, EF-S, TS-E and MP-E lenses. There's a basic adapter, another with a customizable control wheel and a third with support for drop-in filters. The Mount Adapter EF-EOS R, Control Ring Mount Adapter EF-EOS R and Drop-in Filter Mount Adapter EF-EOS R are compatible with both EF and EF-S lenses.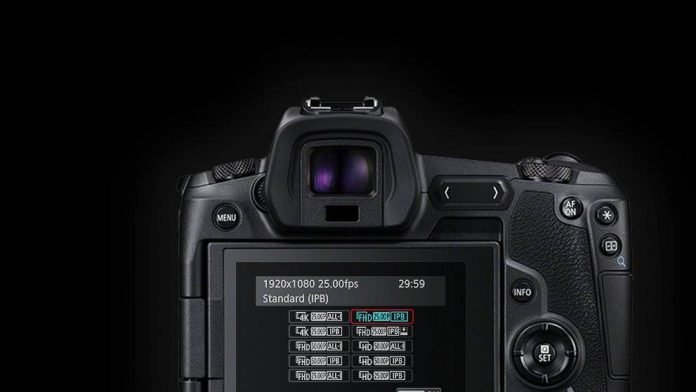 The EOS R has a customizable multi-function touch bar, a new Fv exposure mode, a fully articulating LCD and an EVF with 3.69 million dots. Its Dual Pixel AF system has a whopping 5,655 selectable points and can focus down to -6EV with F1.2 lenses. The camera can capture 4K/30p video which can be output over HDMI at 4:2:2 (10-bit). Canon Log is supported right out of the box.
The EOS R will be available in October for $2299 body only or $3399 with the 24-105mm F4L lens.
The Canon EOS R
The Canon EOS R is the first camera to feature the new RF lens mount with a 12-pin connection, flange back distance of 20mm and a wide 54mm mount diameter. According to Canon this enables a greater flexibility in lens design. We get to the four new native RF lenses in a second. First, watch the blow video in order to get started with the new EOS R ecosystem:
OK, let's take a deep breath and sort this out. A new RF mount? EF glass only with an adapter? Yes, but that adapter comes with a twist! There are actually four different models of that EF – R mount adapter. A plain adapter, a adapter which sports a control ring (just like the control ring on the new RF lenses) and two versions for drop-in filters. One of them takes a polarizer filter, the other features a variable ND filter.
Video Capabilities
In terms of video the new EOS R does record either 1080p up to 50/60p, 4K UHD (3840 x 2160) in up to 25/30p. The recording codec is MPEG-4 AVC / H.264 and video is recorded internally in 8bit only in Rec.2020 or Canon Log. We've been told that the will operate in crop mode when shooting 4K UHD. That's unfortunate but, and that's a good thing, the EOS R features HDMI 422 10bit out in either Rec.2020 or Canon Log.
So no real high frame rates to be found here. Sony's a7 III does 1080p in up to 120fps. Same is true for the new Nikon Z6 and Z7. According to Canon the EOS R is just the first body for their new ecosystem involving the new RF mount, so this might be only the beginning. For us video shooters the above specs seem a bit disappointing but I think we should wait jus a little longer and don't judge a camera solely from its specs. Let's see how the actual footage looks like.
What the Canon EOS R lacks is this: No IBIS (in body image stabilization). The New sensor does not offer any built-in IS features such as the Sony a7III or the new Nikon Z's do. Furthermore, the EOS R sports only a single SD card slot (just like the new Nikon Z's).
New RF Lenses
Along with the release of the EOS R body, Canon also releases 4 new lenses which support the RF mount natively.
The four lenses include these models:
RF 24-105mm F4 L IS USM
RF 28-70mm F2 L USM
RF 50mm F1.2 L USM
RF35mm F1.8 MACRO IS STM
The 28-70 f/2 is a world's first in terms of fast aperture. All these lenses make use of the new RF lens mount design which offers greater flexibility when designing lenses. The rear elements of these lenses can be bigger when compared to EF glass. This results in more compact lenses while still be able to design very fast lenses.
The RF lenses sport a new Control Ring which can be programmed to several functions such as iris control. That way you can hold the camera with both hands while conveniently controlling all the functions you need right now without fiddling with buttons and dials.
The Competition
The so-called mirrorless war is really heating up! Sony has been king of the hill in this market segment for some years now, but competition is growing. First Nikon Z, now Canon EOS R, Panasonic also seems to have something up its sleeve. And of course, one question remains unanswered: When do we see a Sony a7s III?
Canon's signature dual-pixel autofocus is probably the best autofocus system for videos we know and it's a great selling point for the new EOS R camera, I'm sure.
Pricing and Availability
The camera will be available from early October on. The body will sell for 2299$. Pricing for the adapters and the lenses still remain unknown at this point. We'll update this article once we get more information.
links: canon.com (press release)