It's early August 2022 and let's take stock of the situation regarding internet browsing software.

The data collected by the Google search engine trends itself shows that since the year 2004 to 2022 we get some curious world data. We also made a list of Web browsers that you can see at the end of this article.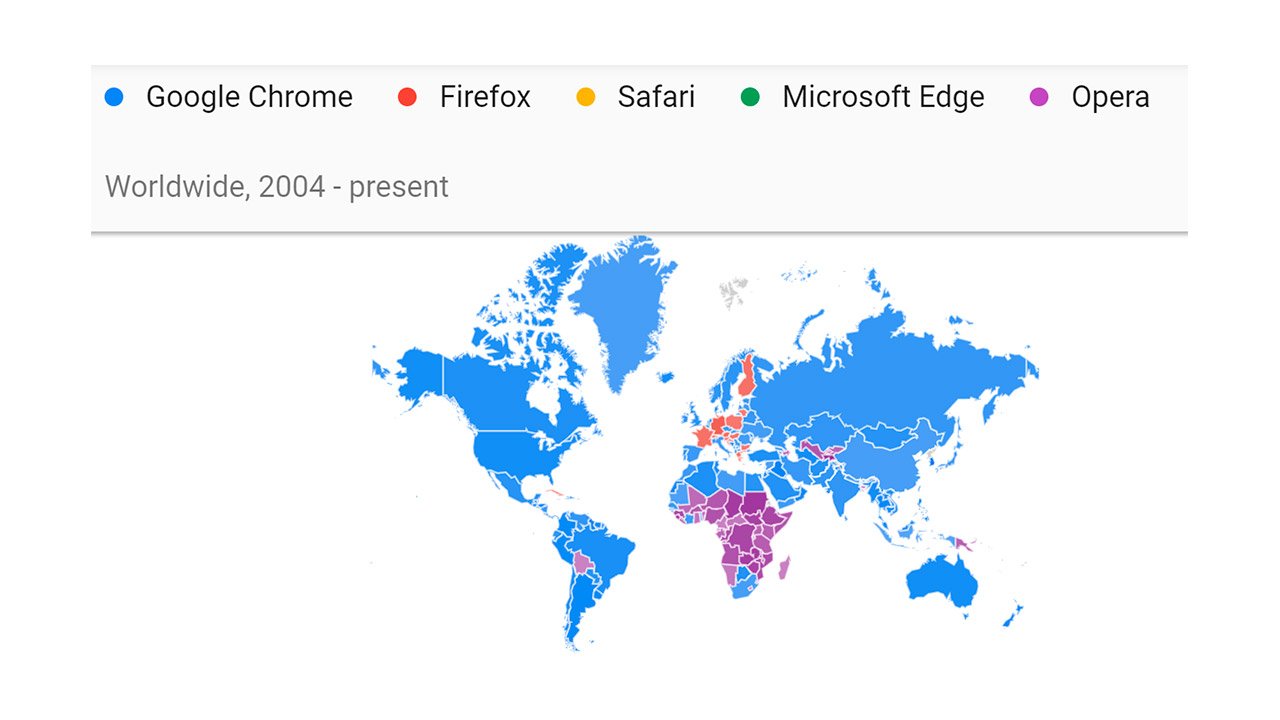 Data collected by Google Trends from 2004 to 2022
ÁFRICA
Did you know that the most searched browser in the whole African continent is Opera?
EUROPE
There is a battle between Google Chrome and Firefox, with Firefox occupying the first place of interest in countries such as Germany, Liechtenstein, Austria, Slovenia, Luxembourg, Finland, France, San Marino, Switzerland, Greece, Hungary, Croatia, Poland, Bulgaria, Lithuania, Monaco, and other countries where it is very close to the first place.
AMERICAS (NORTH, CENTRAL, SOUTH)
In the Caribbean Sea, Central America, Cuba has a fondness for the Firefox browser.
In South America, it is Bolivia that stands out for valuing the Opera browser.
For the remaining countries in North, Central and South America, there is a clear overwhelming dominance of Google Chrome, which continues to be the users' favourite.
ASIA
Google Chrome has an overwhelming dominance. Opera Browser dominates the first place in some countries, such as Uzbekistan, Azerbaijan, Tajikistan, Bangladesh and Kyrgyzstan.
OCEANIA
Google Chrome has an overwhelming dominance, but Opera is the number one in Papua New Guinea and Timor-Leste.
HOW ABOUT USING STATISTICS?
According to statcounter.com the most used browser worldwide is Google Chrome with 65.14%, followed by Apple Safari with 18.82%. In the third position comes Microsoft Edge with 4.11%, followed by Firefox with 3.3% and then Samsung Internet with 2.95%. In the sixth position appears Opera with 2.12%.
WE MADE A LIST OF WEB BROWSERS
How about you?
What is your favourite browser?