For all the filmmakers looking to work wirelessly, Hollyland has just launched a few days ago another consumer-grade product (AV) audio and video streaming the new Hollyland Mars400S.
Being able to have a monitor wirelessly connected to the camera and your client can sit back, relax and give you a direct feedback about what's going on can be extremely awesome! Don't you think?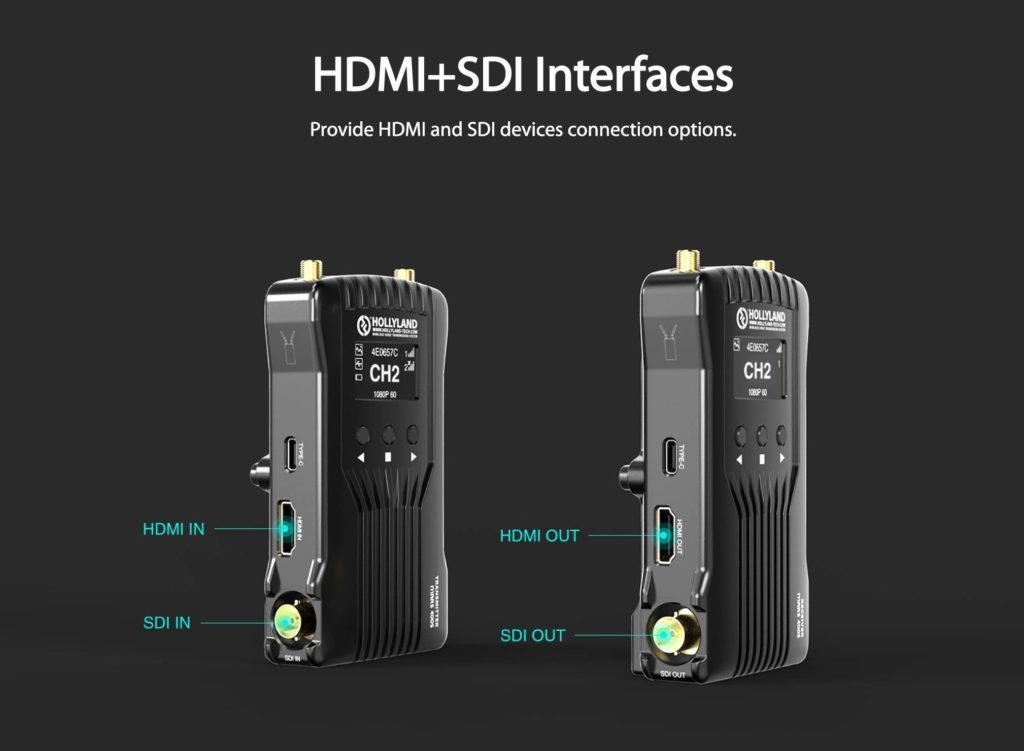 This new device MARS 400S not only work as a normal wireless transmitter, but it can also work directly with tablets or smartphones, from different operating systems (iOS / Android), (check the product specifications bellow). The entry-level model from Hollyland "MARS 300" can also be a good option in affordable wireless devices (449 $ USD), however this new model has better features for about 649$ USD.
Support up to 4 APP connections while the transmitter is connected to 1, or none, receivers, HDMI and SDI input, while the receiver supports both HDMI and SDI output and it has a transmission range over 400ft with a clean line of sight (LOS), supports up to 1080P 60Hz image resolution, and in the end achieves full HD HDMI / SDI video transmission.
Have a unique channel scan on the current receiver screen environment to find out available channels and avoid interference. It's easy enough to start using the system with a channel "√" means the channel is clear of interference, while "×" means it is with interference. Use the latest wireless communication technology and transmits ultra-low latency HD video, with the latest coding, decoding technology and 5G wireless transmission technology and can achieve ultra-low latency wireless video transmission.
Has three Scene Modes applications feature on the transmitter, so when there is interference in the environment, we will have an option to prioritise our video shooting over video quality, low latency or a balance between the both (Image Mode, Balance Mode and Speed ​​Mode). All these 3 modes will show the same result when the environment is clear of interference
Also has an OLED display screen to check out all device status and control the system with displayed information on the screen. Low-Battery Warning Indicator: Keep you informed 30 minutes in advance before the battery dies. It's equipped with a stable, reliable and durable industrial metal case that avoids light external damages and easily cools the system down.
APPLICATIONS
Indie Filmmaking
Live Broadcasting
Sports Activities
Education Recording
Wedding Ceremonies
Corporate Events
Features
iOS & Android App Monitoring
1 Transmitter Supports up to 2 Receivers
OLED Display Screen
Channel Scan
Three Application Scene Modes
Low-Battery Warning Indicator
400ft Transmission Range (LOS)
Less than 0.1s Latency
Both HDMI & SDI Connection Options
USB Firmware Upgrade
Stable & Reliable Industrial Metal Case
Specifications
Transmitter

Receiver

Interface

HDMI Input (Type A Female)
SDI Input
2 Antenna Interfaces (RP-SMA Male)
DC Input, Type-C USB
HDMI Output (Type A Female)
SDI Output
2 Antenna Interfaces (RP-SMA Male)
DC Input, Type-C USB

Supply Interface

6~16V DC

6~16V DC

Power Consumption

< 11W

< 6W

Weight

192g

189g

Size

112*65*23.5mm (L*W*H)
External antennas and battery plate excluded
112*65*23.5mm (L*W*H)
External antennas and battery plate excluded

Input / Output Video Format

HDMI:
480p60
576p50
720p50/59.94/60
1080i50/59.94/60
1080p23.98/24/25/29.9/30
1080P50/59.94/60
SDI:
1080P60/59.94/50(Level A)
1080P60/59.94/50(Level B)
1080i60/59.94/50
1080P30/29.97/25/24/23.98
1080Psf25
720P60/59.94/50
1080Psf24/23.98
HDMI:
480P60
576P50
720P50/60
1080i50/60
1080P24/25/30
1080P 50/60
SDI:
1080P60/50(Level A)
1080i60/50
1080P30/25/24
720P60/50
1080i50(1080Psf25/24/23.98 Input)
1080i60(1080Psf30/29.97 Input)

Modulation Mode

OFDM

OFDM

Frequency

5GHz

5GHz

Transmission Power

Maximum 21dBm

/

Receiver Sensitivity

/

-80dBm

Transmission Latency

Less than 0.1s

Less than 0.1s

Bandwidth

20MHz

20MHz